Tell Your Neighbors About Your Experience
With superior plant knowledge, exceptional hardscape installation technique, and a passion for sustainable outdoor spaces that bring people together, Kimberly Lock and Ann Laughlin founded Eco-Chic Gardens in 2007. Beautiful, functional design gives you a space you want to spend time in, while our eco-friendly approach ensures you're protecting and preserving your land for the next generation—and it makes it easier to maintain in the meantime.
Each project is personalized to match your home and budget, gardening interests, and aesthetic preferences. We treat your outdoor space like we would our own, and nothing makes us happier than hearing how much our clients love and live in their yards and gardens. 
We're proud to serve this part of eastern Pennsylvania, and we love to hear from you! Leaving us an honest landscaping company review inspires us to continued growth and improvement, and it can help your neighbors make an informed decision about hiring Eco-Chic Gardens for their landscape transformation.
We offer a full range of landscaping services, from design and installation to the maintenance and seasonal clean-up that keeps your plants healthy and beautiful. Whether we refreshed the seasonal planters at your front door or transformed your backyard into an outdoor oasis, complete with a kitchen, stone patio, specialty garden, and more, we hope you'll leave us a landscaping company review!
Share how you feel about our customer service, plant and installation expertise, and your finished result so other residents and neighbors in the surrounding area can learn more about what we do and decide for themselves whether Eco-Chic Gardens is the right fit for their project. 
If you're not sure where to start, think about how you'd answer some of these questions:
What type of service (design, plant health care, maintenance, etc.) did we do for you?
Did you enjoy a collaborative design process where your concerns and ideas were addressed and incorporated?
Was the team friendly and easy to work with?
Was it easy to get in contact with someone when you had questions?
Did the team respect your home and your property, arrive when we said we would, and clean up after the project was complete?
Did we work efficiently and keep you updated on how the project was progressing?
Does your outdoor space look like it belongs with your home?
Did you learn more about the plants you have and how to care for them?
Did we go above-and-beyond in any way to create an exceptional experience for you?
How has your life changed for the better because of your new space? Are you spending more time enjoying nature or connecting with friends and family?
Are you thrilled with your finished project and proud to share it with the people you love?
Thank you for sharing the highlights of your experience. We love sharing our horticulture expertise with our neighbors in New Hope, Abington, Buckingham, Blue Bell, Warminster, Philadelphia, and everywhere in between, and we believe everyone should have a beautiful outdoor space to enjoy for years to come. Thanks for helping us spread the word about our eco-friendly landscaping services!
An Eco-Conscious Company That Puts Clients First
Our company was founded on a deep love of nature and a commitment to the responsible stewardship of the landscape and we want others to experience the joy and relaxation of spending time outside. To that end, we strive to create livable spaces uniquely suited to your land and lifestyle, and we want to ensure you're completely happy with that space.
If you've worked with us before, we thank you for the opportunity to put our creativity and horticulture expertise to work for you, and we're grateful for your honest feedback! If you need help maintaining your existing landscape or you're looking for a complete backyard renovation, take a closer look at our landscaping company reviews and give us a call. We'd love to go to work for you.
Find Out What Our Clients Are Saying
Superior plant knowledge and a dedication to open communication is what makes our clients continue to work with us and send us referrals. Take a look at feedback from some of our recent clients.
Hooray! I've got a garden in bloom again and it's a joy! Thank you so much. Kelsey & Rinaldo worked so hard and made it so beautiful, while putting up with my neighborhood cats, passersby and us. I think fun was had by all. Looking forward to the next visit. I'll call to arrange that.
- Bea
We were thrilled to have worked with Ann at Eco-Chic. She and her team – Stephanie, Luis, and Timothy – provided fantastic service to improve the curb appeal of our property. Their work included spring clean-up, assessing the health of our perennials, pruning, transplanting, adding new plant material, edging and mulching. Ann also discussed watering instructions in order to maintain the garden throughout the summer.
- Courtney
Thanks again for everything. You and your company ROCK!
- Dave
Please extend my gratitude to your team for pulling together a rock garden that I have long envisioned. It feels particularly mine. From design to execution, you and your team have been so pleasant to work with.
- Dianne
I am extremely pleased. Your products and services are outstanding and your employees are a pleasure to work with and learn from. I look forward to referring friends and to contacting you should I find the need for more landscape/design services.
- Warren
On behalf of Ivyland Borough Council we would like to thank you for your beautiful contribution to our Memorial Park! It is certainly an addition! You have been most generous to us. We are so happy to welcome you to Ivyland!
- Winnie
Eco-Chic Gardens on a Variety of Landscaping Projects
When you work with Eco-Chic Gardens, you'll have access to our full range of services. This allows you to manage your services and receive continual support from the same knowledgeable experts. In addition, this consistency can lead to lower costs and uninterrupted service. Our comprehensive landscaping service includes: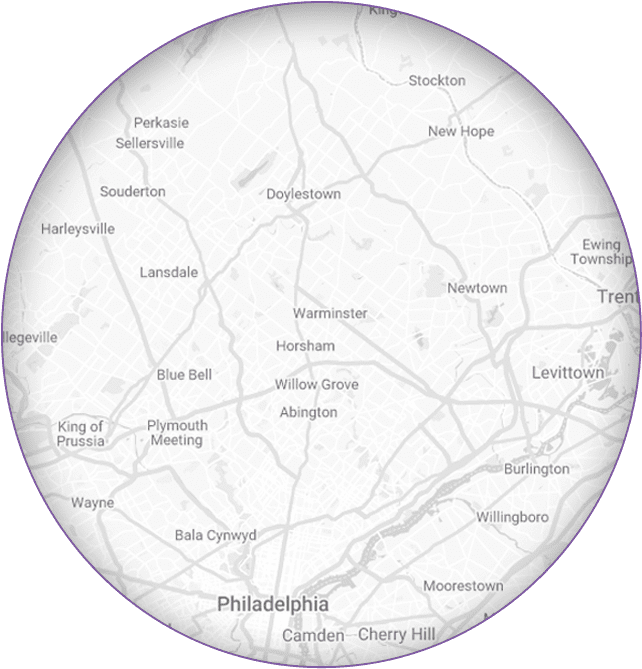 Landscape Design and Installation Services
Throughout the Philadelphia Area
Though our primary office is located in Warminster, we love to get to know our neighbors. Our service area is the Tri-County Pennsylvania area including these cities:
Philadelphia
Washington Crossing
Doylestown
Newtown
Ambler
Lower Gwynedd
Huntingdon Valley
We're Always Looking for New Talent to Join our Crew
Do you love the outdoors and enjoy building beautiful spaces? Do you have a passion for horticulture? Do you care about how you interact with our environment? If so, we'd love to meet you. Visit our careers page to learn more about our current openings.