to Protect and Nurture Your Outdoor Living Space Through Our Comprehensive Service Offerings
Whether you live on 10 acres or a quarter acre, your New Hope, Pennsylvania outdoor space can make a big first impression. It's the first thing people notice when they walk by your house, the first thing your neighbors see when they drive by, and the first thing you look at when you walk through your front door. To put it another way, routine landscape maintenance can be the difference between "wow," and "Woah."
But beyond how other people view your home, regular maintenance can help you get more use out of your outdoor living space and help you retain your home's value. At Eco-Chic Gardens, we'll work with you to create a maintenance plan that is best suited for you and your New Hope, PA garden. To learn more, contact us to talk to a member of our landscape maintenance team.
Find Out What Our Clients Are Saying
Superior plant knowledge and a dedication to open communication is what makes our clients continue to work with us and send us referrals. Take a look at feedback from some of our recent clients.
Hooray! I've got a garden in bloom again and it's a joy! Thank you so much. Kelsey & Rinaldo worked so hard and made it so beautiful, while putting up with my neighborhood cats, passersby and us. I think fun was had by all. Looking forward to the next visit. I'll call to arrange that.
- Bea
We were thrilled to have worked with Ann at Eco-Chic. She and her team – Stephanie, Luis, and Timothy – provided fantastic service to improve the curb appeal of our property. Their work included spring clean-up, assessing the health of our perennials, pruning, transplanting, adding new plant material, edging and mulching. Ann also discussed watering instructions in order to maintain the garden throughout the summer.
- Courtney
Thanks again for everything. You and your company ROCK!
- Dave
Please extend my gratitude to your team for pulling together a rock garden that I have long envisioned. It feels particularly mine. From design to execution, you and your team have been so pleasant to work with.
- Dianne
I am extremely pleased. Your products and services are outstanding and your employees are a pleasure to work with and learn from. I look forward to referring friends and to contacting you should I find the need for more landscape/design services.
- Warren
On behalf of Ivyland Borough Council we would like to thank you for your beautiful contribution to our Memorial Park! It is certainly an addition! You have been most generous to us. We are so happy to welcome you to Ivyland!
- Winnie
Discover the Eco-Chic Difference
When you choose a landscaping maintenance service, you want to have the peace of mind that you are making a good investment. At Eco-Chic Gardens, your satisfaction is our number one priority. A few of the things you can expect from our New Hope, PA services include:
Increased beauty: Everyone wants a beautiful outdoor space. But poor quality, irregular, or non-existent landscape maintenance can detract from your home's beauty and affect your ability to enjoy your home. Regularly scheduled maintenance can help prevent issues before they become a bigger problem and ensure your plants, shrubs, and greenery are in top condition.
Help from experienced professionals: At times, it can feel like landscaping is equal parts art and science. It takes a balanced combination of creative design and expert knowledge to create and maintain beautiful landscapes. At Eco-Chic Gardens, our team has experience in a wide range of landscaping projects. When you work with us, you can trust we'll work hard to provide the best experience.
More time to enjoy your garden: Plants require regular maintenance to stay in their best condition. This takes time. Instead of taking hours to prune, weed, or maintain your garden, let us take care of it for you.
Landscapes with Just One Click
At Eco-Chic Gardens, we're proud of the work we do. Our job is to create beautiful landscapes and happy customers. Want to see some of our recent work? Check out our landscaping portfolio.

We Offer a Wide Range of Services
Designed to Meet Your Needs
When you work with Eco-Chic Gardens, you'll have access to our full range of services. This allows you to manage your services and receive continual support from the same knowledgeable experts. In addition, this consistency can lead to lower costs and uninterrupted service. Our comprehensive landscaping service includes: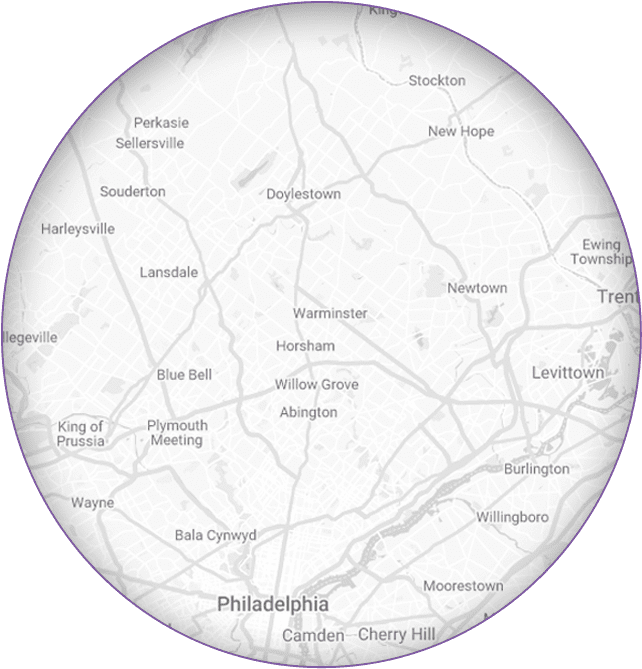 Philadelphia, Bucks & Montgomery Counties
Though our primary office is located in Warminster, we love to get to know our neighbors. Our service area is the Tri-County Pennsylvania area including these cities:
Philadelphia
Washington Crossing
Doylestown
Newtown
Ambler
Lower Gwynedd
Huntingdon Valley
Are You Looking for an Enriching Career in Landscaping?
Do you love the outdoors and enjoy building beautiful spaces? Do you have a passion for horticulture? Do you care about how you interact with our environment? If so, we'd love to meet you. Visit our careers page to learn more about our current openings.