and Perennial Care Made Easy
Having a beautiful outdoor space is only enjoyable if it's tidy and well-maintained. Seasonal debris like leaves, broken twigs, and weeds can quickly overtake your yard, while overgrown foliage can make it feel like a jungle. It's overwhelming to think of tackling that fall and spring cleanup project yourself.
Fortunately, you don't have to! Eco-Chic Gardens offers seasonal landscape maintenance services in New Hope, Pennsylvania to keep your space looking its best. Whether we did your landscape design and installation or not, our stand alone maintenance services are available to residents of New Hope, Philadelphia, and other nearby towns.
Our seasonal cleanup clients receive the same care, attention to detail, and extensive plant knowledge that we bring to all our landscaping projects. When you work with us, you'll enjoy prompt, open communication with a team of credentialed and degreed horticulturalists who are dedicated to eco-conscious stewardship of Pennsylvania landscapes. Contact us to learn more about New Hope, PA seasonal cleanup and all our landscaping services.
Find Out What Our Clients Are Saying
Superior plant knowledge and a dedication to open communication is what makes our clients continue to work with us and send us referrals. Take a look at feedback from some of our recent clients.
Hooray! I've got a garden in bloom again and it's a joy! Thank you so much. Kelsey & Rinaldo worked so hard and made it so beautiful, while putting up with my neighborhood cats, passersby and us. I think fun was had by all. Looking forward to the next visit. I'll call to arrange that.
- Bea
We were thrilled to have worked with Ann at Eco-Chic. She and her team – Stephanie, Luis, and Timothy – provided fantastic service to improve the curb appeal of our property. Their work included spring clean-up, assessing the health of our perennials, pruning, transplanting, adding new plant material, edging and mulching. Ann also discussed watering instructions in order to maintain the garden throughout the summer.
- Courtney
Thanks again for everything. You and your company ROCK!
- Dave
Please extend my gratitude to your team for pulling together a rock garden that I have long envisioned. It feels particularly mine. From design to execution, you and your team have been so pleasant to work with.
- Dianne
I am extremely pleased. Your products and services are outstanding and your employees are a pleasure to work with and learn from. I look forward to referring friends and to contacting you should I find the need for more landscape/design services.
- Warren
On behalf of Ivyland Borough Council we would like to thank you for your beautiful contribution to our Memorial Park! It is certainly an addition! You have been most generous to us. We are so happy to welcome you to Ivyland!
- Winnie
Services are Essential for a Healthy Outdoor Environment
With our extensive plant knowledge and commitment to sustainability, we design seasonal planters that match your lifestyle. These creative arrangements are fun and versatile. A unique container can be a bit of a showpiece all by itself; with a changeable plant arrangementWeeds and debris are more than unsightly. Weeds can quickly overtake a yard and steal nutrient resources from your trees, flowers, and other plants. Overgrown shrubs and dead branches can crowd plants reducing available sunlight, water, and nutrients from nearby healthy plants. Pruning shrubs and small trees promotes plant health and good aesthetics.
We provide horticulturally correct methods and practices to care for your plants. Creating a beautiful, healthy outdoor lifestyle.
Our knowledgeable staff is happy to work with you to provide the best possible care for your gardens, and to help you achieve your vision for a beautiful and comfortable outdoor space. All of our stand alone maintenance services are fully tailored to the unique needs of your property and can include:
● Spring cleanup
● Timely perennial care
● Updating or replanting flowers
● Provide & install seasonal plant material
● Fall clean-up, perennial cutbacks, and beds neatened for winter
● Full property leaf removal
● Winter pruning of fruit & ornamental trees and shrubs
● Mulching
● Weed management, you can bring something fresh into your space with each new season. They're easy to move and rearrange, so you can mix it up without a complete landscaping overhaul.
is the Simplest Thing You'll Do Today
We're constantly working to make sure you have the best landscaping experience possible.
That's why we've created a 6-step process that puts you first every step of the way:
Step 1 — The Initial Phone Call:
This is where you tell us what you need. We don't have to go into a lot of detail just yet, but it's good to know the basics, what type of property you have, and the level of services you are looking for.
Step 2 — On-site visit:
We meet with you to make sure we get everything just right. So it's important for a member of our team to come out to your property to get a feel for the lay of the land. This step allows us to get a better understanding of any special considerations for your property and give you a better estimate concerning project scope and cost.
Step 3 — The Presentation Meeting:
We like to present our proposals and designs in person, but can work with you through this step over the phone or through email. We attend to any little details and prepare to launch your project.
Step 4 — Scheduling:
You're almost there! We'll work with you to find a time that works best for your schedule.
Step 5 — The Work Begins:
It's time for our ECG team to get started. We respect your schedule and show up to work on time. If something comes up that causes a delay, we'll let you know.
Step 6 — Final Walkthrough:
It's time for the final walkthrough. We want to make sure you're 100% satisfied and will address any concerns you have. We'll also discuss future maintenance, any plans moving forward and share our post -installation care guidelines.
When you work with Eco-Chic Gardens, you'll have access to our full range of services. This allows you to manage your services and receive continual support from the same knowledgeable experts. In addition, this consistency can lead to lower costs and uninterrupted service. Our comprehensive landscaping service includes: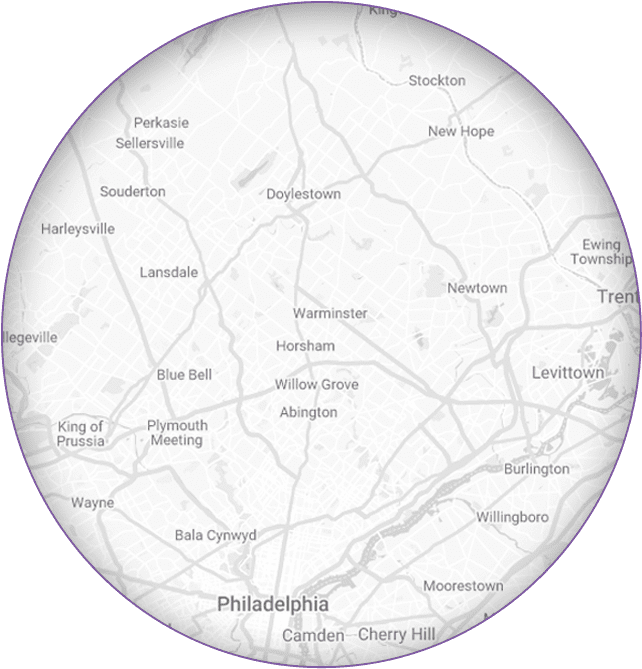 Services in New Hope and the Surrounding Area
Though our primary office is located in Warminster, we love to get to know our neighbors. Our service area is the Tri-County Pennsylvania area including these cities:
Philadelphia
Washington Crossing
Doylestown
Newtown
Ambler
Lower Gwynedd
Huntingdon Valley